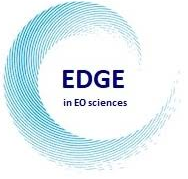 EDGE is a company located in Athens, Greece, providing advanced product exploitation and scientific results on Earth Observation-based mature and state-of-the-art and commercially exploitable solutions that have been resulted from the longstanding activities of the researchers of the National Observatory of Athens researchers, and more specifically BEYOND's team. The mission of EDGE is to fill in a gap for rendering the mature research outcomes, services and products to innovative and sustainable service offer for the benefit of operational users and relevant EO market uptake.
For this, the spin-off company, EDGE, was recently established, as a new independent company, that accumulates cutting edge expertise in Earth Observation and remarkable experience in the provision of state-ofthe-art EO products and services of the founding members and personnel in the following domains: Emergency Management; Disasters Monitoring; EO Coordination; Dissemination & Capacity Building; Water Resources Management; Consultancy Services; Exploitation of Research outcomes.
EDGE does not simplify solutions to make them "sellable". It makes people understand the added value of the EO-based solution and makes them step up and take advantage of every bit of the application. Hence, EDGE's vision is to make all kinds of scientific applications reach their real market.